Leicestershire & Rutland retain EG Boys County Championships at Wollaton Park Golf Club
Leicestershire & Rutland retained the EG Boys County Championships at Wollaton Park Golf Club on 1st June 2022 to become Midland Region representatives at the Boys County Finals at Furness Golf Club in August. In closely fought contest the Leicestershire & Rutland Boys edged out a strong Worcestershire side in the narrowest of margins. Count back calculations were used as both teams finished on 718. The scores of the sixth player in each team suddenly became important and it came down to a single shot. Both teams discarded a score of 77 in round 1 but a single stroke (82 to 83) gave the title to the current holders.
At the halfway point it was clear the afternoon rounds would be very key with 5 counties within 12 shots of the lead being held by Worcestershire on 357, Staffordshire just one shot back on 358 and eventual winners, Leicestershire & Rutland, on 360. Warwickshire trailed their geographical neighbours by 4 on 361 and Northamptonshire were not out of sight on 369.
Jenson Forrester recorded a second round 67 to match his first round score to suggest Staffordshire would be a real threat and place pressure on the halfway leaders but unfortunately the Staffordshire boys were unable to follow Jenson's lead and as a team they faded to fourth place. Warwickshire repeated their 361 score to finish third. The battle for top spot went right down to the wire with the count back rules being checked and double checked before the final result was announced. Leicestershire & Rutland would be heading for the Boys County Finals once again.
The best 36 hole gross score was Jenson Forrester (Sutton Coldfield) with an 8 under total of 134, Finley Stokes (Atherstone), Charlie Box (Kirby Muxloe), Ryan Gavin (Coventry) and Gavin Ingram (Kedleston Park) all finishing on 139.
Pictured are the victorious Leicestershire & Rutland team with MGU President David Price (7th left), L&RGU President Phil Askew (1st Left), L&RGU Tournament Director & MGU Chairman Kevin Whitfield Green (2nd Left).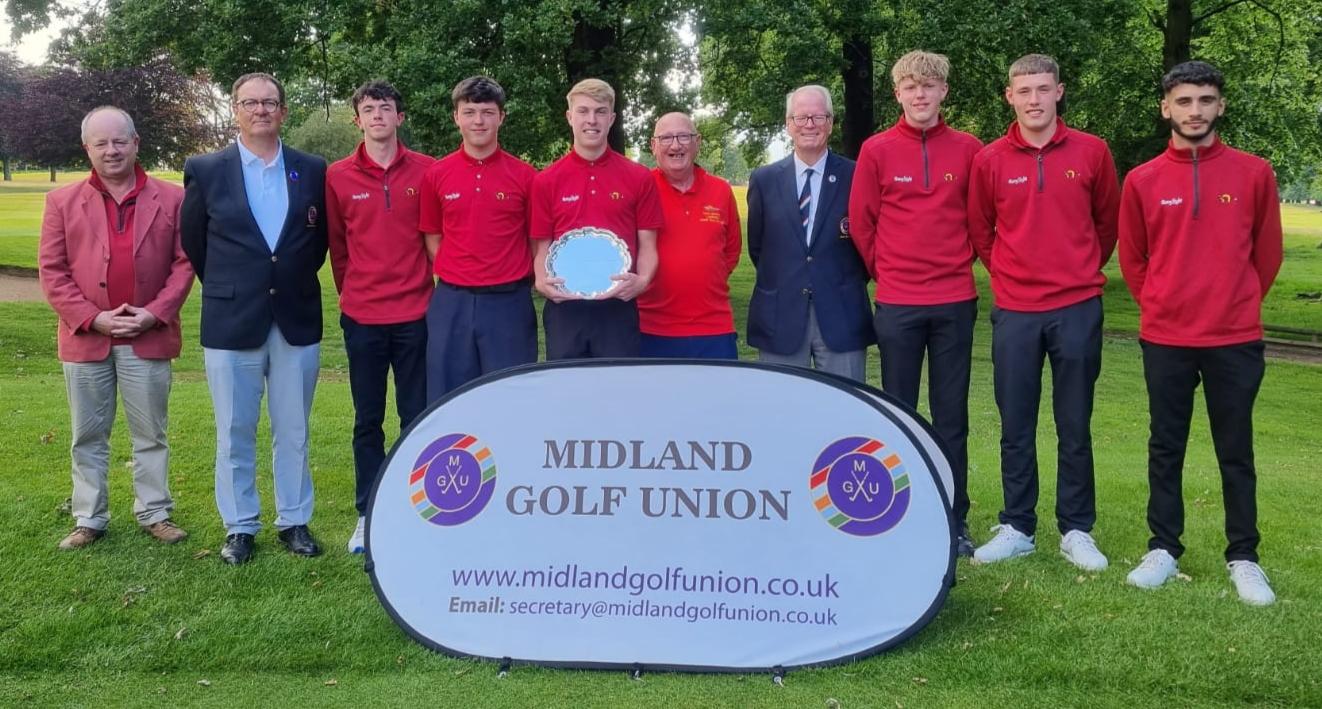 Pictured: Jenson Forrester (Sutton Coldfield) winner of the Arnold Quaish