Vorobeyev and Wan take the titles at Hawkstone Park
Leo Vorobyev and Amelia Wan win at Hawkstone Park in the 2022 Midland U16 Boys and Girls Open Amateur Stroke Play Championship. Owen Rafferty and Skye Fontanelli win their respective Stableford competitions for non-qualifiers
After two damp days of practice for many of the competitors it was nice to see a bright sky for the start of the competition. Both courses had been set up to provide a fair challenge to the rich pool of very young talent on show. 35 Girls and 82 boys set off in search of the ultimate prize of the respective Covey Trophies and a place on the newly constructed Honours Boards in pride of place in the Lyle's Bar at Hawkstone Park Hotel. First Round scores were qualifiers for the Justin Rose Telegraph Junior Golf Championships which provided an extra edge for players to get off to a good start to the 54-hole competition.
Amelia Wan (Sherwood Forest) recorded the best round on the Hawkstone Course with a 71 and Jake Wallis (Garforth) carding an impressive 65 on the Championship Course. Both players will be entered onto the season long leader board at the Telegraph in the hope of qualifying for the final.
All players completed 18 holes on each course by the end of the first day to determine who would progress into the final round for the prestigious Midland U16 Open Amateur Stroke Play Championship. 18 Girls and 45 Boys teed up for their respective titles on the Championship Course. Amelia Wan (142) held a 3 shot lead over Matilde Santilli (Foxhills) on 145, Herry Ji (Burhill) on 146 and Emily Peaford (Walton Heath) on 147 were following closely behind. Meanwhile in the Boys Championship, Jake Wallis on 139 held a slender lead over Drew Sykes (Golf at Goodwood) on 140, Monty Holcombe (Walton Heath) and Stanley White (Saunton) shared third place on 142 and a group of five players, George Edwards (Sene Valley), Harrison Sewell (Northumberland), Oscar Lent (Walton Heath), Leo Vorobyev (Wentworth) and Thomas White (Windlesham), all jostling for position on 143.
The non-qualifiers started early on the Hawkstone Course on Thursday morning in a stableford qualifier with some equally impressive scoring. Early clubhouse leader, Scott Antoun (Kings Hill) on 39 points waited for almost the entire field to come in only to miss out on countback to Owen Rafferty (Worksop). Aaron Mohun (Delamere Forest) and Joe Austin (Links Newmarket) were just one point behind on 38 with Charlie Rusbridge (Colne Valley) and Frederik Gannon (Cuddington) on 37. Faversham based Skye Fontanelli was well clear of the rest of the field in the Girls Stableford with 39 points with Annabel Peaford (Walton Heath) on 34, finishing runner up, Grace Lambert (Hessle) in third place with 33 points ahead of 4 players, Ruby McLellan (Woodsome Hall), Anabelle Lucas-Villar (Royal Jersey), Darcie West (Knebworth) and Antonia Emmerson (Ponteland) all on 32.
The final round of the main event had commenced with all eyes on the top three places in both competitions with handicap exemptions available for the English U16 Boys Championship (McGregor Trophy) and English U16 Girls Championship. But the ultimate on offer was the top place for both Boys and Girls. With the order of play being reverse leader board order, the opportunity was there to post an early score to put pressure on the final groups. In the Girls competition Amelia Wan maintained her advantage over Matilde Santilli and stretched her lead by a further shot to finish on 216 leaving Matilde clear on 220. Elizabeth Wilson (Norwood Park) finished third on 222, a score matched by Lili-Rose Hunt (Droitwich) with Chloe Tarbard (Royal Norwich) on 223. Herry Ji (Burhill) lost ground on the leaders and dropped from third place to sixth on 225. Alexandra Sparrow (Stoke by Nayland) and Imogen Williamson (Delamere Forest) tied for seventh on 227. Broadstone based Honor Johnson, and Emily Peaford (Walton Heath) completed the top ten on 229.
The final round for the boys saw all the top ten players finishing under par for the 54 holes. Early leaders from the previous day were unable to hold off the strong challenge of the chasing pack. Jake Wallis (Garforth) was unable to improve his 5 under aggregate score, finishing on 211 along with Edward Linley (Romford) who had fought hard for his 5 under final round. Stanley White (Saunton) registered a 2 under final round to finish on 212 just one ahead of Freddie Surgey (Burhill) on 213, also shared by Harrison Sewell (Northumberland). Drew Sykes (Golf at Goodwood) slipped into 8th place with a final round of 74 to finish on 214. Thomas White (Windlesham) and Oscar Lent (Walton Heath) made up the remainder of the top ten on 215. The battle for the top slot was being played out between Monty Holcombe (Walton Heath) and Leo Vorobyev (Wentworth). Whilst Monty recorded a 4 under final round of 68 to finish on 210, the 6 under 66 by Leo Vorobyev was just enough to finish on 209 and one shot clear of the field. The excitement of a play-off for the title being denied to the large contingent of supporters and officials.
The overall Team Trophy was won by the Boys South Team of Monty Holcombe, Oscar Lent and Matthew Kim. Best Girls team was won by the Girls South Team of Herry Ji, Matilde Santilli and Charlotte Woodham. The best Mixed Team was won by the South East Mixed Team of Drew Sykes, Jack Swift and Skye Fontanelli.
Each of the Champions were very worthy winners to head off all the challengers and both Leo and Amelia were relieved to get their hands on the trophies in the end. Each paid tribute to the quality of the course prepared by Ian George (Course Manager) and to all the Hawkstone Park staff for looking after all the players and families throughout the event.
Photos:
Leo Vorobyev (Midland U16 Boys Open Amateur Stroke Play Champion)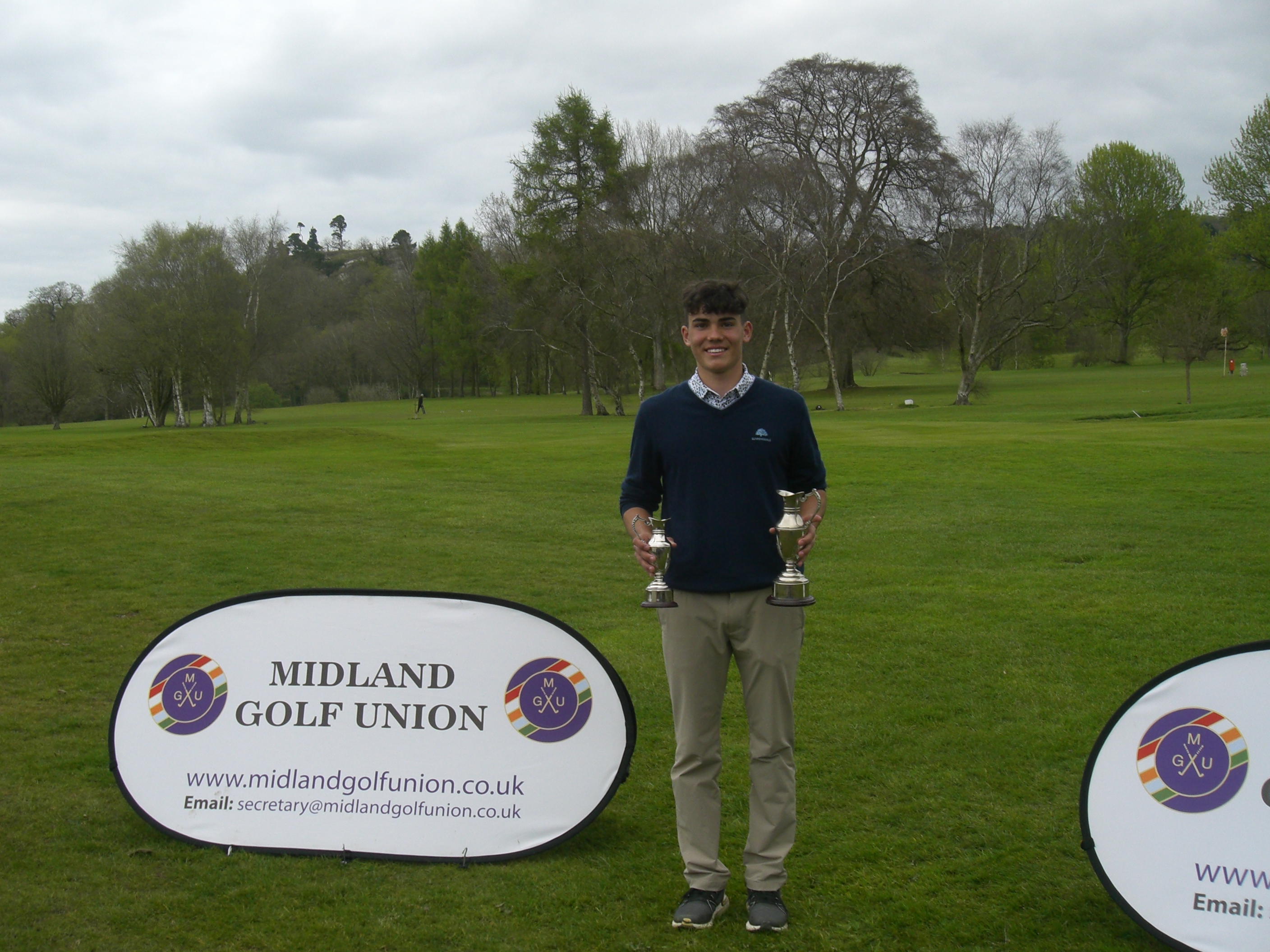 Amelia Wan (Midland U16 Girls Open Amateur Stroke Play Champion)