2021 Midland Boys League Final result
The delayed 2021 Midland Boys League Final between Warwickshire and Cambridgeshire hosted by Shrewsbury Golf Club on Friday 8th April 2022 was played in bright sunshine with a cool breeze which was welcomed by all players, having practiced the day before in bitterly cold strong winds.
The course had been prepared to test the players with receptive fast running greens and well-manicured fairways. The quality of course was a real testament to the hard work put in by the green keeping team to present the course in the best possible condition for early April.
Both teams arrived as Regional champions following a disrupted season so each were confident of securing the final win of the protracted season.
The morning foursomes commenced as the early morning frost cleared in the bright sunshine with the overall match in the balance through the front nine, each county up in two and all square in the last. The completion of the morning foursomes saw wins for Warwickshire in the first three games and Cambridgeshire reversing that trend in the following two matches. Warwickshire holding a slender lead of 3 to 2 as players enjoyed their lunch and contemplated what they needed to do in the afternoon singles to either extend their lead, or in the case of Cambridgeshire, reverse the current position.
Warwickshire captain, Alex Ford, extended their lead comfortably by holding off the challenge of Jake Plumb. Cambridgeshire trio of Oliver Toyer, Theo Morris and Paul Collington had strong wins against Tom Poole, Liam Scagell and Ollie Clark to push Cambridgeshire ahead by 5 to 4. Jack Roe and Niall Collins took their match all the way to the final green before Jack extended the Cambridgeshire lead to 6 to 4. Sam Marshall and Harry McDonnell held off the next two Warwickshire players, Joe McGuiness and Chanon James, to confirm the overall win for the East league Champions. Joe Austin withstood the challenge of Charlie Faulkner on the final green to win 2 up. Lennon O'Neill-Knibbs and Will Grimbleston finished all square on the last. The win for Warwickshire by Sam Knowles over Rohan Neat in the final game reduced some of the deficit to a 9 and a half to 5 and a half win for Cambridgeshire.
The victory in the final of a delayed 2021 season has capped a very successful year for Cambridgeshire, one of the smallest of the Midland Counties, having taken the Midland U14 Boys County Championships, U16 Boys County Cup and U18 Boys League East title. Congratulations to all the Cambridgeshire Junior organisers and team managers who have developed a successful formula over the last 5 years.
Congratulations also to Warwickshire for securing the U18 Boys League West with a 100% record. The hard work of the Warwickshire County officials has seen individual success within the county as well at team success at Men's and Senior levels, both reaching the England Golf County Finals.
The 2022 league season will commence on 23rd April 2022 with all fixtures available to view at https://www.midlandgolfunion.co.uk/2022_junior_league
Photo: Cambridgeshire (to be added)
Photo: Warwickshire U18 Boys - Winners of the 2021 Midland Boys League West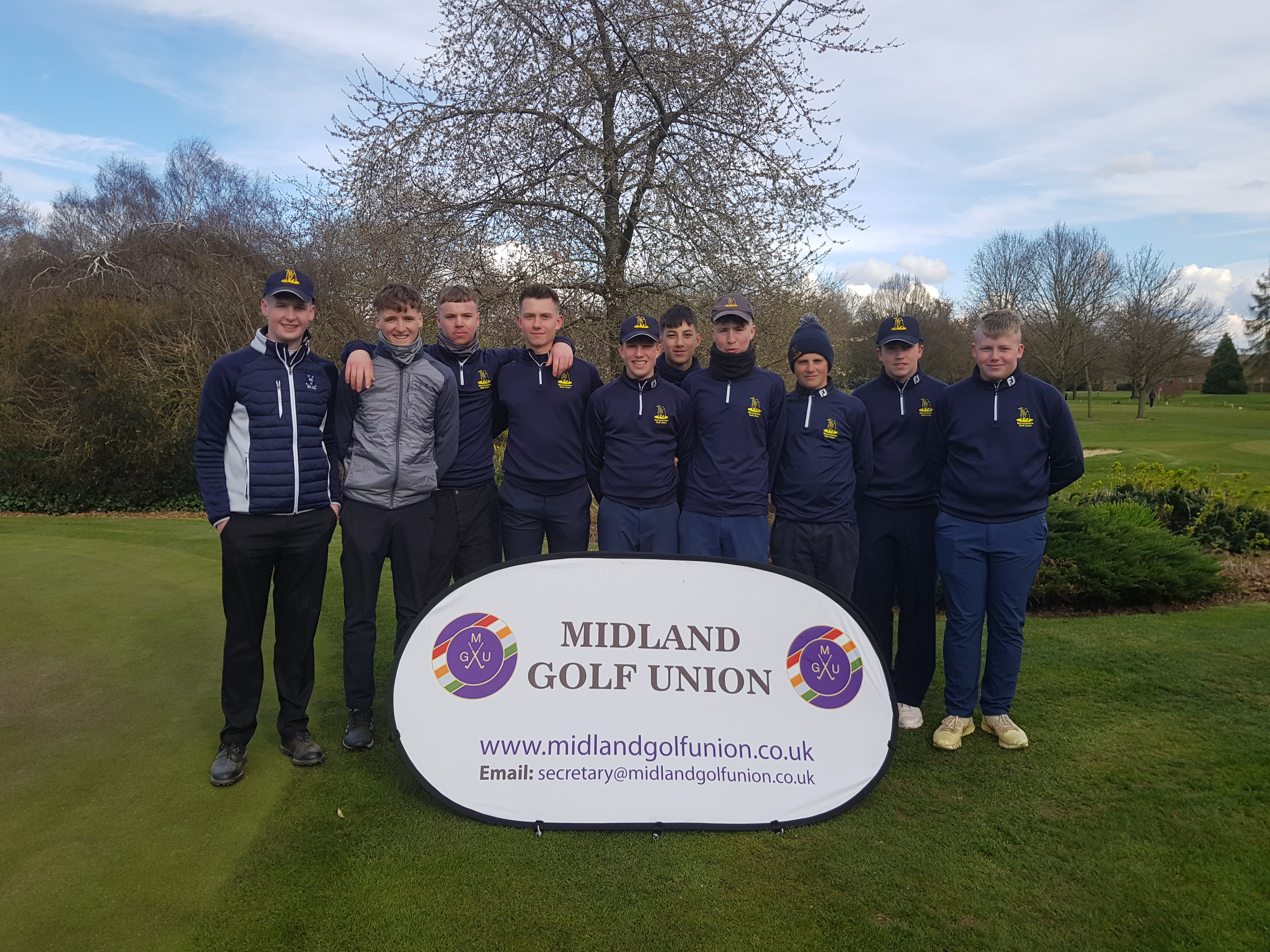 News report by:
Neil Harris
9th April 2022