Nottinghamshire seniors triumph
Nottinghamshire triumphed in the 2014 EG Senior County Championships – Midland Qualifying at Gog Magog Old Course on Thursday 14th August and go on to represent the Midland Counties at Hindhead in October.
The Nottinghamshire Seniors returned a score of 377 to finish 3 shots clear of Shropshire & Herefordshire on 380 and a further 3 shots clear of the chasing pack of 2013 champions Lincolnshire, Staffordshire, Cambridgeshire and Worcestershire all finishing on 383. Leicestershire and Rutland were a further 2 back on 385. Northamptonshire finished on 388, Warwickshire on 392 with Derbyshire bringing up the rear on 409.
Consistency proved to be the winning combination for Nottinghamshire with Graeme MacDonald (Newark GC) and Stuart Pond (Worksop GC) both returning scores of 74, Neil Martin (Wollaton Park) on 75, Alastair McLachlan (Notts GC) on 76, David Brown (Sherwood Forest) on 78 and Chris Powell's (Sherwood Forest) score being discarded, giving a team total of 377. The players and officials were obviously delighted and looking forward to the trip to the finals in Hindhead.
The Shropshire & Herefordshire team of Basil Griffiths (Llanymynech GC), Duncan Hamling (Bridgnorth GC), Garry Huggett (Oswestry GC), Steve Jennings (Oswestry GC), Paul McGarry (Bridgnorth GC) and Andy Robinson (The Shropshire GC) were disappointed to lose out in the end but pleased with their performance.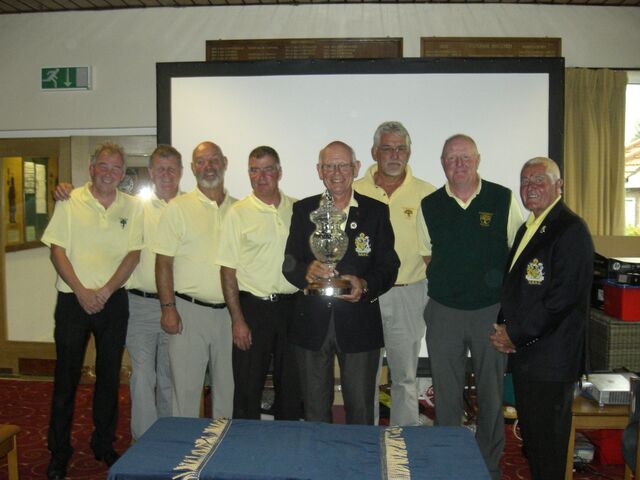 Best score of the day was William (Bill) Thompson (Kings Norton GC) representing Worcestershire with an impressive 67. With 13 straight pars and birdies at 5, 8, 15 and 18 the round was only spoilt by a bogie on the par three 4th hole. Bill said afterwards, "I enjoyed my round and felt comfortable out there. Despite the difficult weather conditions at times the course played really well and stood up to the elements. The greens staff should be complimented on the presentation of the course".