2016 EG Seniors County Championships – Midland Qualifying
2016 EG Seniors County Championships – Midland Qualifying
Worcestershire County Seniors secured a second successive championship to defend the title they won on home soil at Hagley 12 months previously.
The Worcestershire squad will go forward to represent the Midland Region in the Seniors County Finals at Chipping Sodbury Golf Club in October. They finished on 790, 4 clear of Staffordshire who finished as runners up on 794 with only a 2 shot advantage over Northamptonshire on 796.
With a good solid all round performance from the six team members they managed to secure the win, without anyone going really low it seemed the consistency within the team was the key. Bill Thompson recorded the third lowest 36 hole total with 154 to help his team along, with Craig Pates and Gary Bristow not far behind.
Staffordshire had their share of low scores with Andrew Guy on 155, Bob Aston on 156 and Roger Humphreyson on 157, but the remaining players were too far adrift to make the difference.
Lowest round of the day was Martin Fell (Copt Heath - Warwickshire) with an impressive 73 but consistency in the form of Richard Cole (Peterborough Milton - Northamptonshire) with a pair of 75's took the low score morning round and lowest 36 hole total of 150.
The Shirley course was running fast with plenty of run on the fairways and exceedingly fast greens to make putting a tricky operation and mastering both elements proved very difficult for many players.
The 2017 EG Seniors County Championships will take place at Hawkestone Park Golf Club.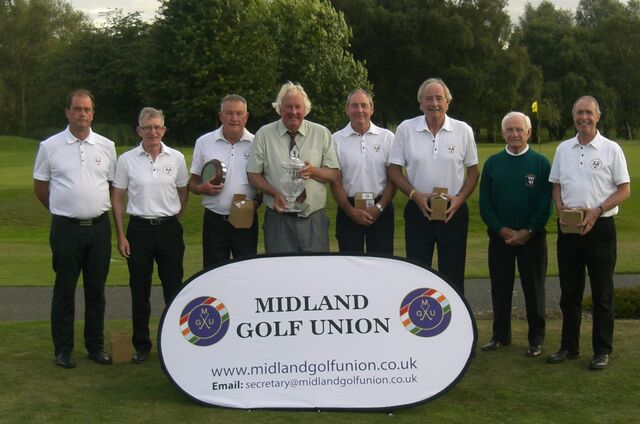 Photograph: Worcestershire with Team Captain Peter Adams (centre) and Brian Morris (second from right)