2016 EG Men's County Championships – Midland Qualifying
2016 EG Men's County Championships – Midland Qualifying
Warwickshire County Men secured the Midland Qualifying section of the County Championships to represent the Midland Region in the Men's County Finals at Sandwell Park in September.
Shrewsbury Golf Club were playing host to the county championship, midland qualifier. The course had been set up to promote good scoring and the players didn't disappoint. Two scores to equal the course record of 64 were recorded by Jordan Boulton (Notts Golf Club) and Sam Broadhurst (Atherstone Golf Club) in the morning, with no less than 11 other players returning scores under par.
Lincolnshire held the lead after the first round with a combined total of 424 (+4) in an effort to retain the title they won the previous year at Gog Magog. Staffordshire were just 4 shots back on 428 (+8) in second place with Warwickshire on 429 (+9). It was all set up for an exciting second round with any number of teams within touching distance of the leaders.
The second round was a similar picture to the morning round with another score to equal the course record of 64 returned by James Reeson (Brampton Park) following on from his 69 in the morning. Yet again the scoring went low with 14 players returning scores under par.
14 players finished the day on level par or better for the 2 rounds with Sam Broadhurst following his morning round of 64 with a 66 in the afternoon. Jordan Boulton was not to be upstaged following his 64 with a 68 in the afternoon. Nicholas Smits followed a 68 with a 66, Ashton Turner (Kenwick Park) returned a 67 in both rounds only one batter than Jack Gaunt (Drayton Park) with rounds of 67 and 68.
Sam Broadhurst eventually took the individual honours, winning the Norman Russell Salver, with a total 130 (-10).
With so many players shooting low scores the final outcome was always going to be tight and for the first time in the Midland Qualifier there were two teams tied on 845 (+5). Warwickshire and Lincolnshire were 13 shots clear of third place Nottinghamshire on 858. Staffordshire's early promise faded as they finished on 861 to take 4th place and Derbyshire and Leicestershire & Rutland sharing 5th place on 865.
Warwickshire were crowned champions after the count back rule was applied and their superior second round score of 416 against Lincolnshire 421 dashed all hopes of Lincolnshire retaining their title.
Warwickshire were obviously jubilant with their success and paid tribute to their absent team manager, Steve Bloxham, who had suffered a family bereavement only days earlier. The team said their motivation was all for Steve. Everyone in the Midland Golf Union wish Warwickshire every success in the County Finals in September.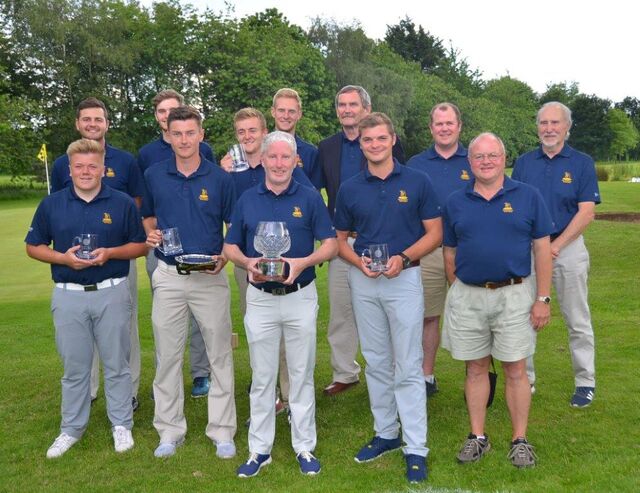 Photo: Warwickshire team.
Sam Broadhurst, Tom Ibbertson, Adam Lumley, Max Martin, Finlay Mason, Patrick Ruff and county officials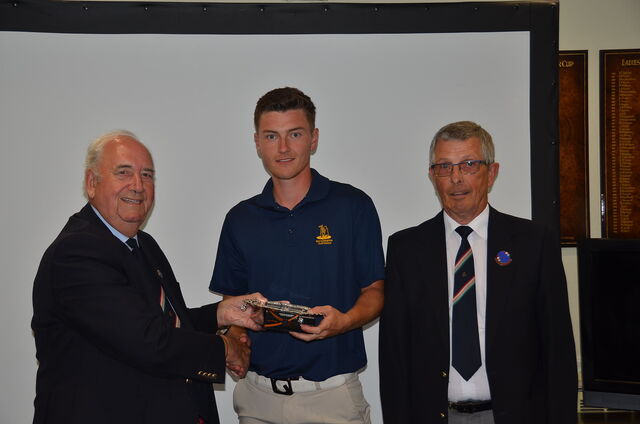 Photo:
Bob Davies (MGU President) with Sam Broadhurst and Terry Horobin (MGU Championship Chairman)